Inspiring Interior Door Colors. Brand and Color names provided for each door listed.
Can we just talk about interior door colors for a minute? I live in an HOA community which means I have NO CONTROL over the exterior of my house. And I absolutely hate it. It might be the only negative thing about living in Arizona. We do get to choose from different shades of browns for our house color…yay! Totally being sarcastic. So for me, the only place I can enjoy COLOR is INSIDE my house! Don't get me wrong, I LOVE the farmhouse trend right now with all the muted grays and whites and ship lap everything. But I also love seeing POPS of color. Painting an interior door a fun color can be the perfect solution to add that interesting contrast to any room.
I've gathered up some of my favorite colored doors and hopefully they will inspire you to get out your paint brush and have some fun.
Bright Lemon Yellow Laundry Room Door // Carla Lane Interiors
A vibrant yellow laundry room door just might get me excited to do laundry 🙂
Mint Barn Doors // McLain Homes
OH.MY.GORGEOUSNESS! The soft muted mint door is perfection in this sea of shiplap.
Green Mudroom Door in Behr Springview Green // A Turtles Life For Me
Navy and green have always looked great together. This room is no exception.
Blush Pink Laundry Door in Behr Everything's Rosy // Classy Clutter
The girls at Classy Clutter always inspire me! I want to paint my pantry this color.
Distressed Gray Pantry Door // Our Faux Farmhouse
There is not ONE thing I would change about this kitchen. I love how the pantry door is distressed and partially glass.
Vibrant Yellow Foyer Doors in Benjamin Moore Yellow Highlighter // Pretty Handy Girl
Colors are supposed to evoke an emotion and who wouldn't feel welcomed in this warm and cozy house.
Sherman Williams Iron Ore  Jean Stoffer Design
The gold and cream accents with this black interior door is so beautiful.
Benjaman Moore Watery // Willow Hill farm Girl
This is a perfect example of the POP of color in a farmhouse world. Not to bold or crazy but just the perfect color shade to add personality.
Ralph Lauren California Poppy // The Lettered Cottage
Anyone who has a bold red door like has fantastic taste.
Easter Pink  2076-50 // Coco Carpets
If I wasn't married I would have all the doors in the house this Easter Pink color 🙂 So girly!
Rustoleum Rustic Pewter // Love Grows Wild
Adding a richer brown color to the farmhouse look adds drama and I love it!
Benjamin Moore Rose Bisque 2102-50 //  Vintage Revivals
I think I might be a little obsessed with PINK considering I added 3 different shades within only 12 spots 🙂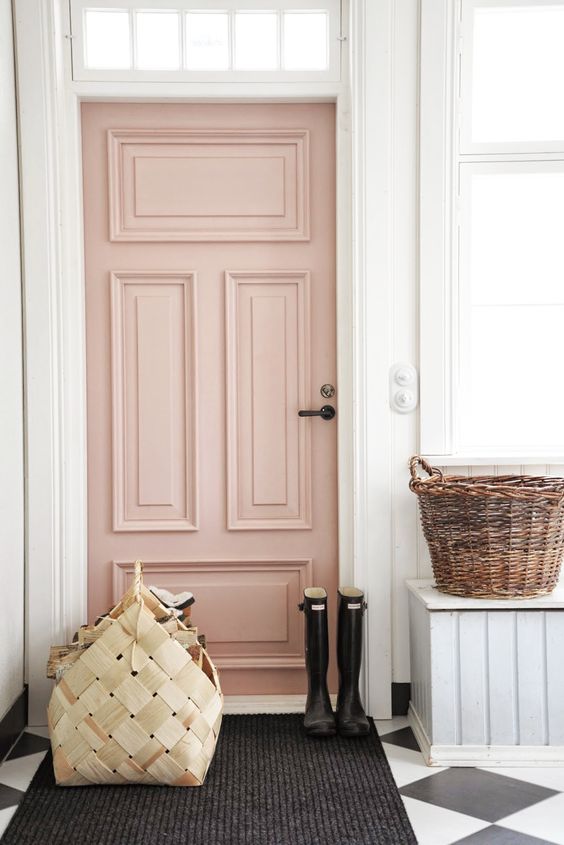 If you could have any door in your house painted, what color would it be?