Today I'm excited to be apart of a fun Halloween series by Allison from the Cupcake Diaries! It's 30 days of Halloween recipes, party foods, and printables. I'm Day 28 and so many cute ideas have already been posted. At the bottom of this post you will find the full list of what the other bloggers came up with. You are going to have so many new ideas to try next month!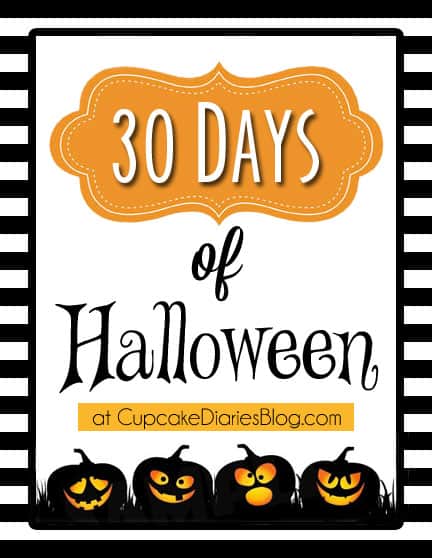 For this series, I knew a lot of treats would be shared so I thought I would come up with a fun and yummy breakfast recipe for the kiddos. Holidays at my house are celebrated from sun up to sun down so I'm always on the hunt for creative breakfast ideas.
I made EYE BALL STACKED PANCAKES and they were a HIT with my kids. How can you go wrong with pumpkin spice pancakes with chocolate whipped filling? Yummy!
I made the skewers by breaking them in half and threading the giant chocolate eyeballs through.
Now stacking them is super cute but the reality of life is sometimes you just can't or don't want to and that's just fine!! But if you are feeling a little bit like Martha, go ahead a stack away!
Pumpkin Spice Pancakes
Ingredients
3/4 cups all purpose flour
3/4 cups whole wheat flour
4 tablespoon brown sugar
2 teaspoons baking powder
1 teaspoon baking soda
1/2 teaspoon table salt
1 1/2 teaspoons cinnamon
1/4 teaspoon nutmeg
1/2 teaspoons ground cloves
3/4 teaspoons ground ginger
1 1/2 cups buttermilk
1 1/2 teaspoons vanilla extract
2 tablespoons coconut oil
2 eggs
2/3 cup pumpkin puree
Chocolate Cream Cheese Whipped Cream
4 ounces cream cheese
8 tablespoons powdered sugar
1 tablespoon cocoa powder
1/2 cup heavy whipping cream WHIPPED until medium peak forms
Pure maple syrup for serving.
Instructions
Prepare whipped cream by beating cream cheese, cocoa, powered sugar, and vanilla until smooth. Take 1/2 of the whipped cream (that you already whipped) and beat it in until smooth. Add the rest of the whipped cream and use a spatula to gently fold (do not beat). Cover and refrigerate until ready to use.
Prepare pancakes. Whisk together the flours, brown sugar, baking powder, baking soda, salt, cinnamon, nutmeg, cloves, and ginger. In a separate bowl, whisk together buttermilk, vanilla, oil, eggs, and pumpkin. Combine wet ingredients with the dry ingredients and gently combine until mixed. Do NOT over mix!
Heat a nonstick griddle to medium heat. When it gets hot, use butter to coat the pan. Drop tablespoons of pancake batter to make the pancakes.
Serve warm pancakes with a dollop of cream cheese topping and a splash of maple syrup!
Makes about 36 small pancakes.
Enjoy!
Looking For More Halloween Inspiration?